STRIPS
/CHARACTERS/

FACTS
_____________________________________________________________
BARRY AND BOING - 107 Appearances in every Issue(12th June 1971 - 23rd June 1973)
Barry Bates was an orphan who lived in the country side and while out picking mushrooms he saw a flying saucer land nearby, Earth had been chosen by some human like Aliens to do some experiments,The Aliens used a 'Springy Robot Thing' called 'BOING' who were his Alien Masters, they were cruel to Boing and often beat him, so he decided to run away from them when he was ordered to collect rock samples, while bouncing away he nearly landed on Barry who was watching, they started chatting and Boing told Barry he was upset about being a poor lonely Robot who knew nothing of Earth, So Barry decided they should go to Scotland where he had a scientist for a uncle who could help him. And off they went to have many adventrues with Boings Alien Masters hot on his tail.
Boing with the use of his springs could shrink down to 2"Inches or grow to 30'Feet.
All printed in Black & Blue.
214 Two Page Strips.
This was 'Knockouts' one and only adventrue strip.

____________________________________________________
BEAT YOUR NEIGHBOUR - 107 Appearances in every Issue(12th June 1971 - 23rd June 1973)
Beat your neighbour was a strip about two Dads and two Sons who lived next door to each other, the first strip was about one of the lads having a tree house, the other lad wanted one but bigger, so the other lad wanted his to be in a higher tree etc etc you get the message. It aways endeds in something coming crushing down or they smash into something, The Dad's usually ended up dazed or bruised or being chassed trying
to get one up for their son
.
The two sets of families never had any names during the whole 107 strips it was just Dad Lad,Son, or Neighbour
Transfered to 'Whizzer & Chips' in the merge.

107 One Page strips printed in Red & Black.
____________________________________________________
BONEY -107 Appearances in every Issue(12th June 1971 - 23rd June 1973)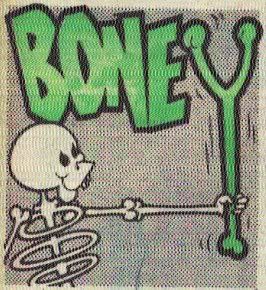 Boney was fed up working on the Ghost Train so decided to do a runner with a lad called Billy who was on the Ghost Train at the time, While Billy showed Boney life out side the Ghost Train his owner spent nearly 107 strips trying to capture him to put him back to work in the Ghost Train.

Billy was always taking Boney on new adventures or showing Boney new things to do, but his boss was always nearby to try recapture and take him back to the Ghost Train which always failed.
107 One page strips, Boney made the merge across to "Whizzer & Chips.
_____________________________________________________________